Billy Guffey is a Certified Recovery Support Specialist at our R.O.S.S. Marshall County Recovery Community Center. Billy facilitates the Chemical Dependency Support Group at R.O.S.S. Marshall County every Wednesday at 7pm! Come join us on Wednesdays we love people to a better life!
R.O.S.S. Marshall County Community Center
1280 Hwy 431 Suite B
Boaz, AL 35957
256-281-9008
Hours of Operation:
We are open 7 days a week from 9 a.m. to 9 p.m.
At our R.O.S.S. Recovery Community Centers, individuals come and go as they like and choose to either attend a support group, engage in social activities, fill out online job applications, or help to build their resume. R.O.S.S. is a safe, supportive, and fun environment for the people we serve to be in. If someone doesn't have a place to go for the holidays or to watch a game, they can come to R.O.S.S. and share a meal.
Frequently Asked Questions
Who is a Peer Support Specialist?
A Peer Support Specialist is a person living in recovery with a substance use disorder and providing support to others seeking recovery from a substance use disorder.
Who is a Certified Recovery Support Specialist (CRSS)?
A  person in recovery from substance use disorder working within an agency or organization, who has been trained to use their personal recovery story to assist others in developing their personal plan for recovery. This person must meet the Alabama Department of Mental Health's requirements to provide peer supportive services.
Peer Support Services promote:
Many pathways to recovery
Self-directed care
Advocacy
A strength-based approach
Relationship enhancement
Emphasis on peer support
Philosophy
Recovery philosophy
Holistic Approach
Self-care
PEER SERVICES INCLUDE:
Facilitating recovery education groups
Peer led support groups
Peer mentoring
Using life experiences to assist consumers in understanding their diagnosis
Crisis support
Relapse prevention planning
Reconnecting to family and community
Basic living skills
Building self-esteem and confidence
Recreation and social opportunities
Self-help and self-advocacy skills
Crisis resolution, problem solving, and goal setting skills
Screening/intake
Assistance in acquiring resources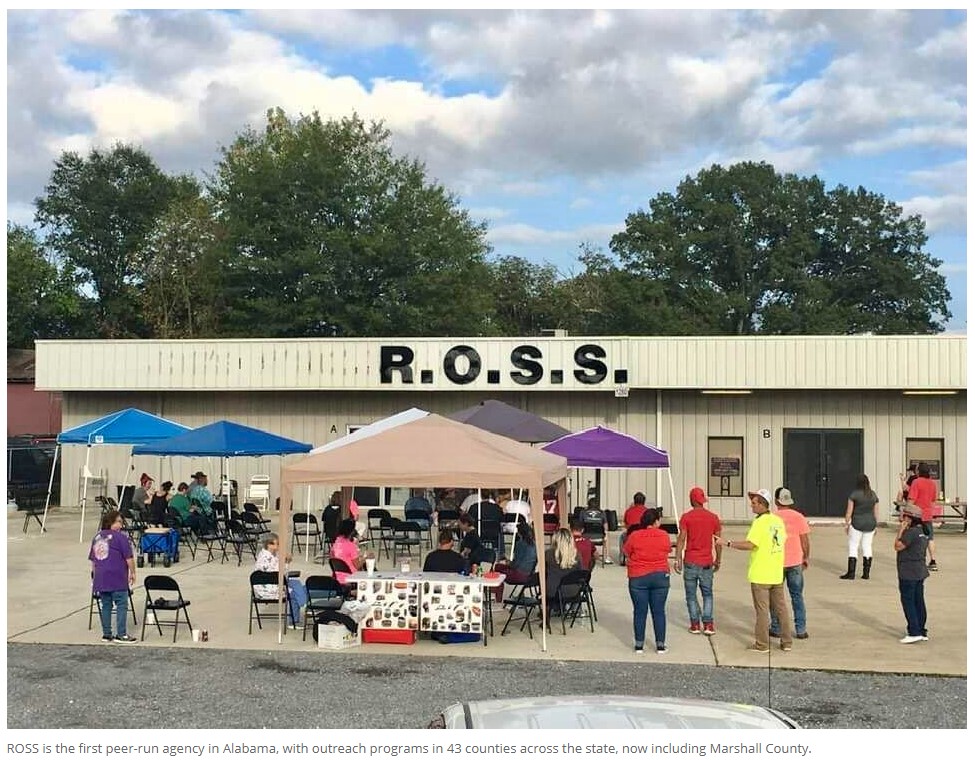 For those struggling with addiction, support from others can mean the difference between progress and relapse. That's why the Recovery Organization of Support Specialists (ROSS) was formed to advocate, empower and collaborate for any individual seeking recovery… sandmountainreporter.com
Such an amazing article by the Sand Mountain Reporter on our Marshall County R.O.S.S. Recovery Community Center!