RECOVERY ORGANIZATION OF SUPPORT SPECIALISTS
Get Help Now!
R.O.S.S. offers peer support to help improve your emotional health, well-being and sense of belonging.
PEER SERVICES INFO
Make a Donation
Our Vision
The Recovery Organization of Support Specialists (R.O.S.S.) seeks to further develop and advance the role of Recovery Support within the community while promoting the right of self-determination and personal responsibility in individuals pursuing recovery.
Our Mission
The Recovery Organization of Support Specialists aims to advocate, empower and collaborate for any individual seeking recovery.
24/7 HELPLINE
​
844-307-1760
Are you or a family member, struggling with addiction or in need of support?
Do you prefer to chat?  We have a person available to you via our chat line 24/7.
Please visit the website at www.rosshelpline4u.org.
You may also email us at helpline4u@gmail.com
Tianeptine, commonly found as an over-the-counter nutritional supplement, becomes a Schedule II controlled substance in Alabama on
Monday, March 15, 2021

. It will no longer be available to purchase over the counter. Tianeptine works on the opioid receptors in the brain and can create similar symptoms to opioid use disorder and withdrawal. There is help available to those using Tianeptine. Please call the 24/7 Substance Use Helpline at 844-307-1760 for assistance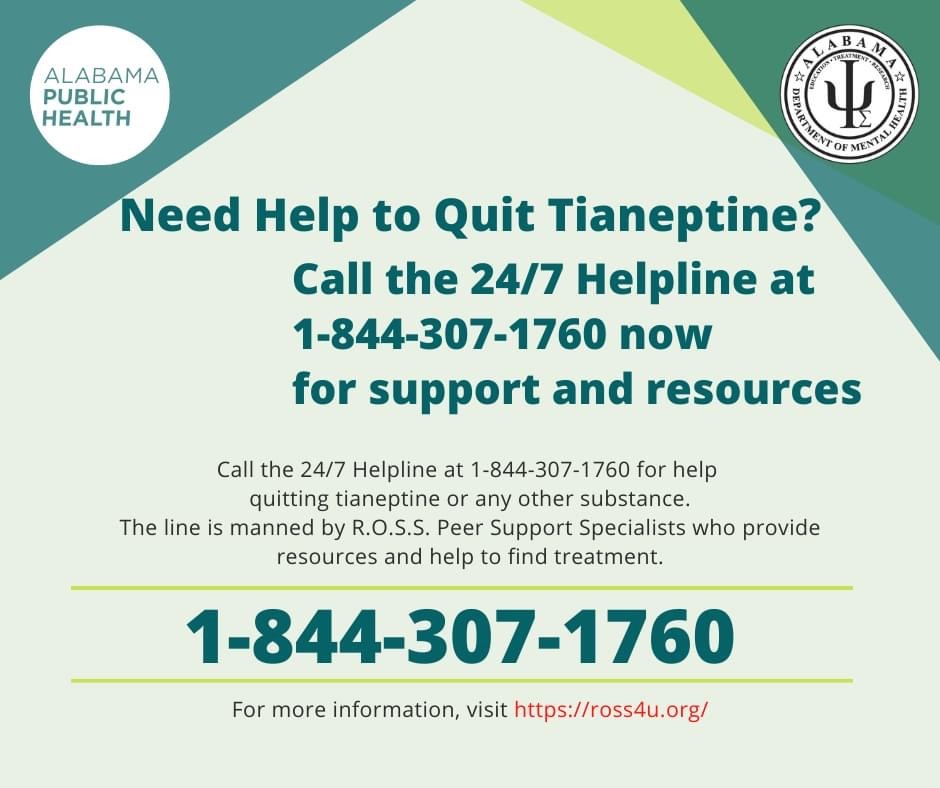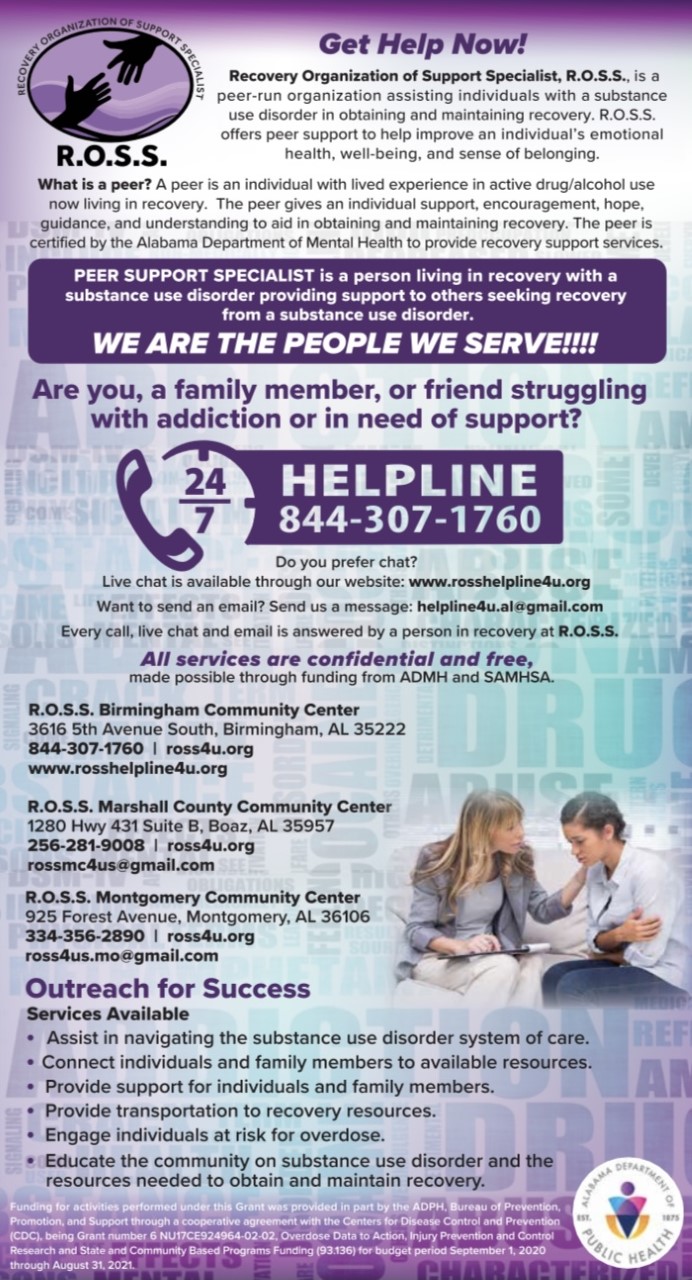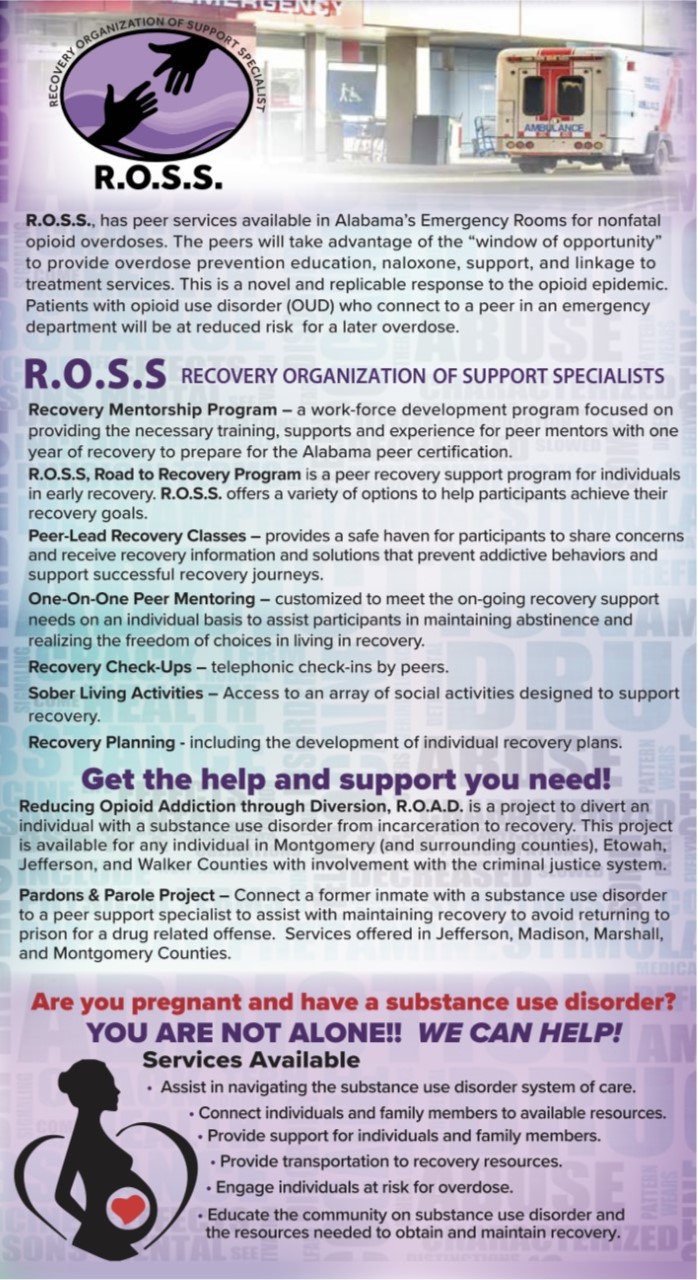 President Joe Biden awarded R.O.S.S. The President's Lifetime Achievement Award in recognition of our service of 4,000 hours to the United States Of America and delivering solutions to the problems we face with substance use disorder in our country. Our 24/7 Helpline was of much needed support to someone in need and thought we should be recognized for the peer support work we do so that no one falls through the cracks.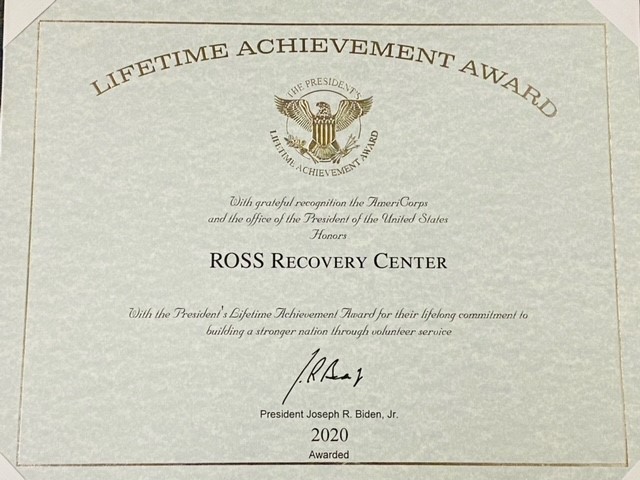 Thank you to Sheri Falk WVTM 13 and WVTM 13 News for such an awesome story on R.O.S.S. being awarded the Presidential Lifetime Achievement award from President Biden.
The Recovery Organization Of Support Specialist is being utilized as a resource at the Jefferson County Sheriffs Office Jobs Not Jail Program. The first event was held on Friday April 23rd at the True Love Church of Ensley.
Such a powerful story on our R.O.S.S. 24/7 Helpline. Check it out!
R.O.S.S. was featured on WEAC – TV24's Local Matters with Dottie Rimpsey for an incredible, inspiring and powerful show on all of the services that we provide at R.O.S.S. to reach the people who fall through the cracks. Check it out!
Watch our R.O.S.S. commercial and get a good idea of what R.O.S.S. is all about.
How We help
What will you gain with R.O.S.S. Peer Services?

1. PREVENTION
Share experiences with peers that who are also working towards recovery.
Gain further insight into substance use disorder. 

2. Education
Gain knowledge of how to cope with difficult circumstances.
Learn to identify feelings, thoughts, behaviors, and events that can result in a possible relapse.

3. Evaluation
Learn how to be an active participant in your treatment plan.
Learn how to strengthen interpersonal relationships.

4. recovery
Experience new hope and inspiration in regards to recovery.
Want to know more about our

FREE

Peer Services with R.O.S.S.?
​
Saves a Life
Your gift will create an opportunity for recovery and spiritual counseling. Our clients rely on your support to help keep our organization going. Any donation will help change someones life.
Peer Specialists
A Peer Support Specialist is a person living in recovery with a substance use disorder and providing support to others seeking recovery from a substance use disorder
Meet Our Team Of Specialists